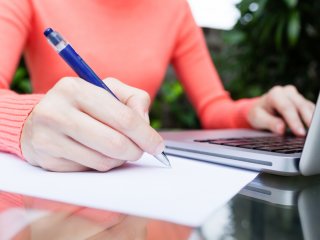 Course Type:
Instructor Led - 4 Weeks Long
Description
Objectives
Outline
Materials
System Requirements
Writing is performed every day in the business world but unfortunately, not everyone is good at business writing. Throughout this course, you will discover simple solutions to your business writing dilemmas. Business communication needs to be simple and direct. The same should be true for business writing.  Effective Business Writing reviews simple layout ideas, elements of basic sentence structure and common grammar and spelling mistakes. These lessons will explore ways to beat the evil procrastination bug and how to hit business deadlines consistently. You will learn how to craft top notch business letters, emails, reports and speeches and you'll explore strategies for keeping up with changes in technology. If you want to get ahead in today's business world, you have to stand out. A good way to place yourself above the rest is to improve your business writing skills and set the pace within your workplace for effectiveness and excellence. Use some of the skills outlined in this book to improve your business writing and you will boost your job performance. Then who knows what possibilities await you. 
After completing this course, you should be able to:
Identify strategies for crafting the written word for your business audiences
Name techniques for writing clearly and concisely, using correct grammar and proper tone
Define the characteristic stages of business writing from initial draft to final edit
Identify common types of business writing projects and standards for incorporating technology
Effective Business Writing Module 1
Craft of Business Writing
Unfortunately, most of us learn to write in school settings, where the numbers of words are more important than the quality of the words. Module 1 reviews the dichotomy between how we learn to write in school versus writing requirements in the business world. Business people don't have time in their busy schedules to read reams of writing, so this module goes over simple layout ideas and basic sentence structures you can use to help readers see the essence of your communication at a glance. Module 1 explores strategies for beating back the evil procrastination bug and explores ways to approach business writing jobs like a reporter by first establishing the bottom line of what you're trying to express.
School Writing vs. The Real World
Qualities of Effective Business Writing
Tips for Beating the Procrastination Bug
Writing Like a Reporter, or Starting with the Bottom Line
Segmenting Your Writing
Sentence Structure
Effective Business Writing Module 2
Mechanics of Business Writing
Wordiness kills business writing documents. Module 2 is all about eliminating words that hinder the message of your writing and selecting words that reveal an appropriate tone for your work. Lessons in this module review grammar issues such as parallel structure, subject-verb agreement, pronoun concerns and some of the more common grammatical errors found in business writing. With an emphasis on correcting the three primary problem areas, your business writing will come out a step above the rest, and there are many people out there who appreciate grammatically correct correspondence.
The Theme or Focus
Support Claims with Facts
The Organizing Plan of Writing
Determining Your Needs
Search Strategies
Using Source Information
Effective Business Writing Module 3
Spelling, Punctuation and Stages of the Writing Process
A major distraction for most business writers is fretting over just what to put down on paper or tap out on the computer screen. This module will provide you with strategies for following the best advice—quit thinking and simply start writing. Your ensuing chore will be to work this draft into a solid piece of writing. Correctly spelled words and punctuation is important to showing your readers that you care enough about your writing to give them the very best. Use the pointers provided in this section and you're sure to express your business writing with correct spelling and the right punctuation. Deadlines are common in the business world so it stands to reason that writing is a job hit hard by deadlines for business professionals. By adopting the tactics in this course and with practice, you will be pumping out final drafts in a minimum of time, thereby allowing you to craft excellent business writing under any deadline imposed on you.
Spelling & Punctuation
Improving Bad Spelling
Spelling Details
Proper Punctuation
Writing with Deadlines
Initial Stages of Deadline Writing
Editing Stages
Effective Business Writing Module 4
Typical Business Writing Projects and Technology Changes
Module 4 examines writing different kinds of business projects, such as letters, memorandums, reports, proposals, and speeches, taking into account that business writing in today's world involves more than just words. Images and videos are also employed to communicate information alongside words crafted in business documents. American businesses should be quick to keep up with technology changes within their offices, and this module explores how to write emails, work with digital images, and review video basics. When you're handed your next business writing assignment, use some finesse in your choice of wording and add professionalism that really gets noticed. Proofread your written creation so that it is second-to-none and realize that the next sales proposal or annual report writing assignment is a chance to stride ahead in the business world by showing your skills in crafting excellent written communication.
Technology in the Business World
E-mail Dos & Don'ts
Images
Videos
Typical Business Writing Projects
Letters & Memos
Reports
Proposals
Writing Speaker Presentations
Ed4Career is committed to being both environmentally conscious and making it easier for you to study! We're making your education mobile! All of our textbooks are now provided as eTextbooks. You can access them on your laptop, tablet, or mobile device and can study anytime, anywhere.
The move away from physical books to eTextbooks means you get the latest, most up-to-date version available. This also makes your training more accessible, so you can study anywhere you have your phone or tablet. The best part is that all materials are included in your training cost so there are NO extra fees for books!
Internet Connection
Broadband or High-Speed - DSL, Cable, and Wireless Connections
*Dial-Up internet connections will result in a diminished online experience. Classroom pages may load slowly and viewing large audio and video files may not be possible.
Hardware Requirements
Processor - 2GHz Processor or Higher
Memory - 1 GB RAM Minimum Recommended
PC Software Requirements
Operating Systems - Windows 7 or higher
Microsoft Office 2013 or higher. Also, you could use a general Word Processing application to save and open Microsoft Office formats (.doc, .docx, .xls, .xlsx, .ppt, .pptx)
Internet Browsers - Google Chrome is highly recommended


Cookies MUST be enabled
Pop-ups MUST be allowed (Pop-up Blocker disabled)

The Kindle Reader App or VitalSource Bookshelf App are needed for many of our courses (No special equipment needed. This can be downloaded for FREE onto your computer.)
PowerPoint Viewer (if you do not have PowerPoint)
QuickTime, Windows Media Player &/or Real Player
MAC Software Requirements
Operating Systems - Mac OS x 10 or higher with Windows
Mac office programs or a Word Processing application to save and open Microsoft Office formats (.doc, .docx, .xls, .xlsx, .ppt, .pptx)
Internet Browsers- Google Chrome is highly recommended


Cookies MUST be enabled
Pop-ups MUST be allowed (Pop-up Blocker disabled)

The Kindle Reader App or VitalSource Bookshelf App are needed for many of our courses (No special equipment needed. This can be downloaded for FREE onto your computer.)
PowerPoint Viewer (if you do not have PowerPoint)
Adobe PDF Reader
Apple QuickTime Media Player