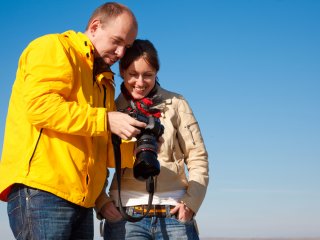 Course Type:
Instructor Led - 4 Weeks Long
Description
Objectives
Outline
Materials
System Requirements
As a new photographer you've got to start somewhere and our Create Stunning Digital Photographs course is great place to start! The goal of this fun and informative course is to provide you with an introduction to digital photography and get you started on the path to becoming a great photographer. You'll begin by learning the fundamentals of digital photography including composition, lighting, exposure and using your camera's manual mode. Next, you'll learn how to transfer pictures to your computer and how to use online sharing features. Finally, photography troubleshooting tips are provided, as well as advice on accessories that will make your passion easier and even more fun! 
After completing this course, you should be able to:
Identify the basics of choosing the right camera, lens, and setup  
Recall how exposure, focus, and color can affect your photos
Recognize different techniques for shooting people, places, events, and animals using auto and scene modes
List techniques and fixes for common photo flaws
Create Stunning Digital Photographs Module 1
Exploring Digital Photography Basics
In module one, students will begin by building a strong foundation in basic digital photography. We will examine the principles behind how to prepare and setup your camera and lens and how to use various shooting modes.
Choosing the Right Camera
Looking at Lenses
Preparing the Camera
Automatic Shooting Modes
Scene Modes
Create Stunning Digital Photographs Module 2
Exposure, Focus, and Color
In this module, we dive into topics such as composition, depth of field, exposure, and how to use flash. We also discuss how to adjust focus and color. These foundational topics will prepare you to start 'seeing' like a photographer and will better equip you to dive into capturing the perfect shot.
Composition
Depth of Field
Exposure
Flash
Manipulating Focus and Color
Create Stunning Digital Photographs Module 3
Getting the Shot
Building off the technical components of digital photography learned in the last modules, you'll put your knowledge to work learning how to photograph action shots, scenery and landscapes, close-ups, and portraits.
Shooting Portraits
Backdrops
Shooting Action Shots
Shooting at Night
Shooting Panoramas
Create Stunning Digital Photographs Module 4
Accessories and Common Fixes
To round out this course, we focus on easy ways to view, download, and store the photographs you've taken by exploring play-back options, storage and software options. Next, you'll be introduced to some tips to enhance your photography skills, such as ways to correct exposure problems, achieve sharper focus, quiet image noise, and visual distractions. Also, this module introduces you to some pretty neat photography accessories that allow you to greatly expand your creative options and make life easier. 
Playback Features
Metadata
Downloading, Editing, and Sharing Photos
Fixes for Common Photo Flaws
Accessories to Enhance Your Photographs
Ed4Career is committed to being both environmentally conscious and making it easier for you to study! We're making your education mobile! All of our textbooks are now provided as eTextbooks. You can access them on your laptop, tablet, or mobile device and can study anytime, anywhere.
The move away from physical books to eTextbooks means you get the latest, most up-to-date version available. This also makes your training more accessible, so you can study anywhere you have your phone or tablet. The best part is that all materials are included in your training cost so there are NO extra fees for books!
Internet Connection
Broadband or High-Speed - DSL, Cable, and Wireless Connections
*Dial-Up internet connections will result in a diminished online experience. Classroom pages may load slowly and viewing large audio and video files may not be possible.
Hardware Requirements
Processor - 2GHz Processor or Higher
Memory - 1 GB RAM Minimum Recommended
PC Software Requirements
Operating Systems - Windows 7 or higher
Microsoft Office 2013 or higher. Also, you could use a general Word Processing application to save and open Microsoft Office formats (.doc, .docx, .xls, .xlsx, .ppt, .pptx)
Internet Browsers - Google Chrome is highly recommended


Cookies MUST be enabled
Pop-ups MUST be allowed (Pop-up Blocker disabled)

The Kindle Reader App or VitalSource Bookshelf App are needed for many of our courses (No special equipment needed. This can be downloaded for FREE onto your computer.)
PowerPoint Viewer (if you do not have PowerPoint)
QuickTime, Windows Media Player &/or Real Player
MAC Software Requirements
Operating Systems - Mac OS x 10 or higher with Windows
Mac office programs or a Word Processing application to save and open Microsoft Office formats (.doc, .docx, .xls, .xlsx, .ppt, .pptx)
Internet Browsers- Google Chrome is highly recommended


Cookies MUST be enabled
Pop-ups MUST be allowed (Pop-up Blocker disabled)

The Kindle Reader App or VitalSource Bookshelf App are needed for many of our courses (No special equipment needed. This can be downloaded for FREE onto your computer.)
PowerPoint Viewer (if you do not have PowerPoint)
Adobe PDF Reader
Apple QuickTime Media Player