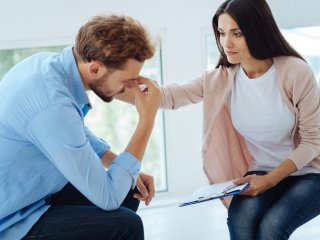 Description
Objectives
Outline
Materials
System Requirements
Watch a Demo
Our Patient Advocacy course provides strategies for helping consumers overcome common challenges encountered in the U.S. healthcare system. These common challenges involve issues surrounding financing healthcare, receiving quality healthcare, ethics, cultural competency, preventive healthcare, mental healthcare, and community-based healthcare. Learn step-by-step methods for providing case advocacy for patients and a framework for policy advocacy, as well. 
Prerequisite(s): None
After completing this course, you should be able to:
List the principles of advocacy in the healthcare setting
Recall methods for assisting with the financing of healthcare
Define consumers' ethical rights and cultural competency
Recognize methods for advocating preventive healthcare
Name the principles of policy advocacy
Patient Advocacy Module 1   
Advocacy in the U.S. Health System
Advocacy From Outside the Health System
Advocacy as an Underground Activity
Advocacy as an Ethical Imperative
Seven Common Problems for Healthcare Consumers
The Poor Law Tradition
Emphasis on Technology
Lack of Diversity in Medical Personnel
Medical Silos and Insular Care
From History to Case and Policy Advocacy
Case-Advocacy Interventions
Eight Case-Advocacy Tasks
Case Advocacy for a Very Sick Child
Patient Advocacy Module 2    
Case Advocacy Skills
Reading the Advocacy Context
Case-Advocacy Triage
Allocating Case-Advocacy Services
Diagnosing Task
Strategizing Task
Implementing Task
Assessing Task
Progression Task
Nature of Influence
Empowering Consumers
Promoting Ethical Conduct
Ethical Reasoning
Patient Advocacy Module 3    
Quality of Care and Cultural Competence
Defining "Quality Healthcare"
Criticisms of U.S. Healthcare in Addressing Illness
Policy as it Pertains to Quality of Care
Scenarios Encountered by Consumers
From Case Advocacy to Policy Advocacy
Conceptualizing Cultural Competency
What it Means to Be Culturally Competent
The Case for Providing Culturally Competent Services
Policy and Regulatory Thicket
Policy Advocacy to Promote Cultural Competence
From Case Advocacy Scenarios to Broader Policy Issues
Patient Advocacy Module 4     
Health Prevention and Financing
Defining Prevention
Threats to Health
Prevention Goals and Strategies
Barriers to Prevention
Why U.S. Consumers Particularly Need Prevention
From Case Advocacy to Policy Advocacy
Helping Consumers Finance Their Healthcare
Buck-Passing
Seniors' Angst
Medical Wheel of Fortune
Ripple Effects of Health Costs and Coverage
Protecting Consumers With Respect to Health Coverage
Patient Advocacy Module 5
Mental Health and Community-Based Care
Mental Distress Often Experienced by Consumers
Who Attends Consumers' Mental Health Needs
Why Consumers Turn to Health Settings
Liabilities in the Policy and Regulatory Thicket
Scenarios Encountered by Case Advocates
Helping Consumers Receive Community-Based Care
Consumer's Health Ecosystems
Community-Based Health Services
Fifteen Case Advocacy Scenarios
Assets and Liabilities
Patient Advocacy Module 6  
Policy Advocacy
Importance of Policy Advocacy
Policy Advocacy Framework
Surmounting Fatalism, Controversy, and Vested Interests
Policy Advocacy in Four Settings
What Advocates Seek to Change
Using Policy to Embed Advocacy in Health Organizations
Health Advocacy in Communities
Policy Advocacy in Electoral Settings
Policy Advocacy in Legislative and Regulatory Settings
Advocating for Regulatory Changes
Establishing a Policy Agenda in Specific Health Settings
**Outlines are subject to change, as courses and materials are updated.**
Ed4Career is committed to being both environmentally conscious and making it easier for you to study! We're making your education mobile! All of our textbooks are now provided as eTextbooks. You can access them on your laptop, tablet, or mobile device and can study anytime, anywhere.
The move away from physical books to eTextbooks means you get the latest, most up-to-date version available. This also makes your training more accessible, so you can study anywhere you have your phone or tablet. The best part is that all materials are included in your training cost so there are NO extra fees for books!
Internet Connection
Broadband or High-Speed - DSL, Cable, and Wireless Connections
*Dial-Up internet connections will result in a diminished online experience. Classroom pages may load slowly and viewing large audio and video files may not be possible.
Hardware Requirements
Processor - 2GHz Processor or Higher
Memory - 1 GB RAM Minimum Recommended
PC Software Requirements
Operating Systems - Windows 7 or higher
Microsoft Office 2013 or higher. Also, you could use a general Word Processing application to save and open Microsoft Office formats (.doc, .docx, .xls, .xlsx, .ppt, .pptx)
Internet Browsers - Google Chrome is highly recommended


Cookies MUST be enabled
Pop-ups MUST be allowed (Pop-up Blocker disabled)

The Kindle Reader App or VitalSource Bookshelf App are needed for many of our courses (No special equipment needed. This can be downloaded for FREE onto your computer.)
PowerPoint Viewer (if you do not have PowerPoint)
QuickTime, Windows Media Player &/or Real Player
MAC Software Requirements
Operating Systems - Mac OS x 10 or higher with Windows
Mac office programs or a Word Processing application to save and open Microsoft Office formats (.doc, .docx, .xls, .xlsx, .ppt, .pptx)
Internet Browsers- Google Chrome is highly recommended


Cookies MUST be enabled
Pop-ups MUST be allowed (Pop-up Blocker disabled)

The Kindle Reader App or VitalSource Bookshelf App are needed for many of our courses (No special equipment needed. This can be downloaded for FREE onto your computer.)
PowerPoint Viewer (if you do not have PowerPoint)
Adobe PDF Reader
Apple QuickTime Media Player