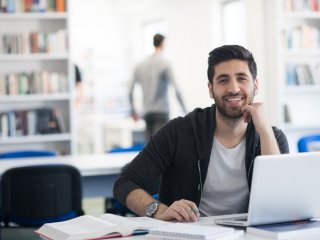 Description
Objectives
Outline
Materials
System Requirements
Watch a Demo
In this fast paced world of technology, it is important to be computer literate. Computer Basics gives students a better understanding of computers and many fascinating components of the digital world. This course introduces learners to basic hardware, such as traditional desktops, tablets and mobile applications. We will take a look at different types of browsers, tools that can enhance productivity, data storage options and proper internet searching techniques. This course will provide students with a solid framework of knowledge to enhance digital literacy skills, as well as ways to stay current with changes in technology.
Prerequisite(s): None
After completing this course, you should be able to:
Define the basics of digital literacy and the history of computing in society
Identify the central components of computers and how they function  
Recall the inner workings of different operating systems
Differentiate between various uses of the internet and software for searching, productivity and networking
Identify the role of emerging computer technologies in the way of safeguarding information and cloud computing
Computer Basics: Digital Literacy Module 1
Introduction to the Digital Literacy Journey
Digital Literacy
Computer Literacy
Computers in Society
Computers and Information
Digitizing Information
Where Are Computers Used?
Computer Threats
Viruses, Worms, and Trojan Horses
Social Impact of Computing
Communication
Collaboration
Ethics
Computer Basics: Digital Literacy Module 2
The Hardware Revolution
History of Computing
Inventing the Processor
Main Computer Box
Processors
Memory
Storage
Binary
Parallel Processing
Computer Peripherals
Mobile Computing
Computer Basics: Digital Literacy Module 3
The Software Revolution
What is Programming Language?
Basics of Programming
BASIC
Looping in BASIC
Systems Software – The Operating System
Early Operating Systems
Windows
Mac OS and Linux
Utilities and Drivers
Open Source
Computer Basics: Digital Literacy Module 4
Productivity Applications
Word Processing
Presentation Software
History of PowerPoint
What Can You Do With PowerPoint?
Spreadsheets
How Does a Spreadsheet Work?
Who Uses a Spreadsheet?
Databases
Multimedia Applications
Mobile Applications
Computer Basics: Digital Literacy Module 5
The Web of Knowledge
Internet Basics
Networks
Basic Network Terminology
Networking Terms
Wireless Networks
The First Browsers
How to Build a Web Page
Accessibility
Usability
Privacy
Computer Basics: Digital Literacy Module 6
The Search is ON
What is Information?
History of Searching
Taxonomies
Metadata
Boolean Searching
Information Searching on the Internet
Google
Bing
Metasearch
Searching on the Go
Computer Basics: Digital Literacy Module 7
Web 2.0
What is Web 2.0?
Blogging
Tweeting
Social and Business Networking
Wikis
Email
Images
Social Bookmarking
The Future: Web 3.0
Dark Side of Social Networking
Computer Basics: Digital Literacy Module 8
The Digital Society
Privacy
Piracy
Cyber Crimes
Making Money Online
E-commerce
Virtual Communities
Online Education
Computing Information
The Law
Globalization
Computer Basics: Digital Literacy Module 9
Emerging Computer Technologies
Mobile Phones  
What is a Tablet Computer?
History of the Tablet Computer
Touch Screens
Artificial Intelligence
The Turing Test 
Cloud Computing
Advantages of a Cloud
Disadvantages of a Cloud
Cloud Storage Systems
**Outlines are subject to change, as courses and materials are updated.**
Ed4Career is committed to being both environmentally conscious and making it easier for you to study! We're making your education mobile! All of our textbooks are now provided as eTextbooks. You can access them on your laptop, tablet, or mobile device and can study anytime, anywhere.
The move away from physical books to eTextbooks means you get the latest, most up-to-date version available. This also makes your training more accessible, so you can study anywhere you have your phone or tablet. The best part is that all materials are included in your training cost so there are NO extra fees for books!
Internet Connection
Broadband or High-Speed - DSL, Cable, and Wireless Connections
*Dial-Up internet connections will result in a diminished online experience. Classroom pages may load slowly and viewing large audio and video files may not be possible.
Hardware Requirements
Processor - 2GHz Processor or Higher
Memory - 1 GB RAM Minimum Recommended
PC Software Requirements
Operating Systems - Windows 7 or higher
Microsoft Office 2013 or higher. Also, you could use a general Word Processing application to save and open Microsoft Office formats (.doc, .docx, .xls, .xlsx, .ppt, .pptx)
Internet Browsers - Google Chrome is highly recommended


Cookies MUST be enabled
Pop-ups MUST be allowed (Pop-up Blocker disabled)

The Kindle Reader App or VitalSource Bookshelf App are needed for many of our courses (No special equipment needed. This can be downloaded for FREE onto your computer.)
PowerPoint Viewer (if you do not have PowerPoint)
QuickTime, Windows Media Player &/or Real Player
MAC Software Requirements
Operating Systems - Mac OS x 10 or higher with Windows
Mac office programs or a Word Processing application to save and open Microsoft Office formats (.doc, .docx, .xls, .xlsx, .ppt, .pptx)
Internet Browsers- Google Chrome is highly recommended


Cookies MUST be enabled
Pop-ups MUST be allowed (Pop-up Blocker disabled)

The Kindle Reader App or VitalSource Bookshelf App are needed for many of our courses (No special equipment needed. This can be downloaded for FREE onto your computer.)
PowerPoint Viewer (if you do not have PowerPoint)
Adobe PDF Reader
Apple QuickTime Media Player